On Thursday morning (Happy Birthday, Connie!) we sat on the balcony and watched the sun come up over the waves. We sailed into Kauai closer to shore than we have ever come on any island. As we cruised past a golf course, I thought that if a golfer stood at the edge of the cliff overlooking the ocean and hit a ball toward the ship, he would probably be able to hit it! As the tug boats tucked the ship into place, I thought I heard a rooster crowing. Then I heard it again... and again. I figured somebody must have a small farm with some chickens right by the port.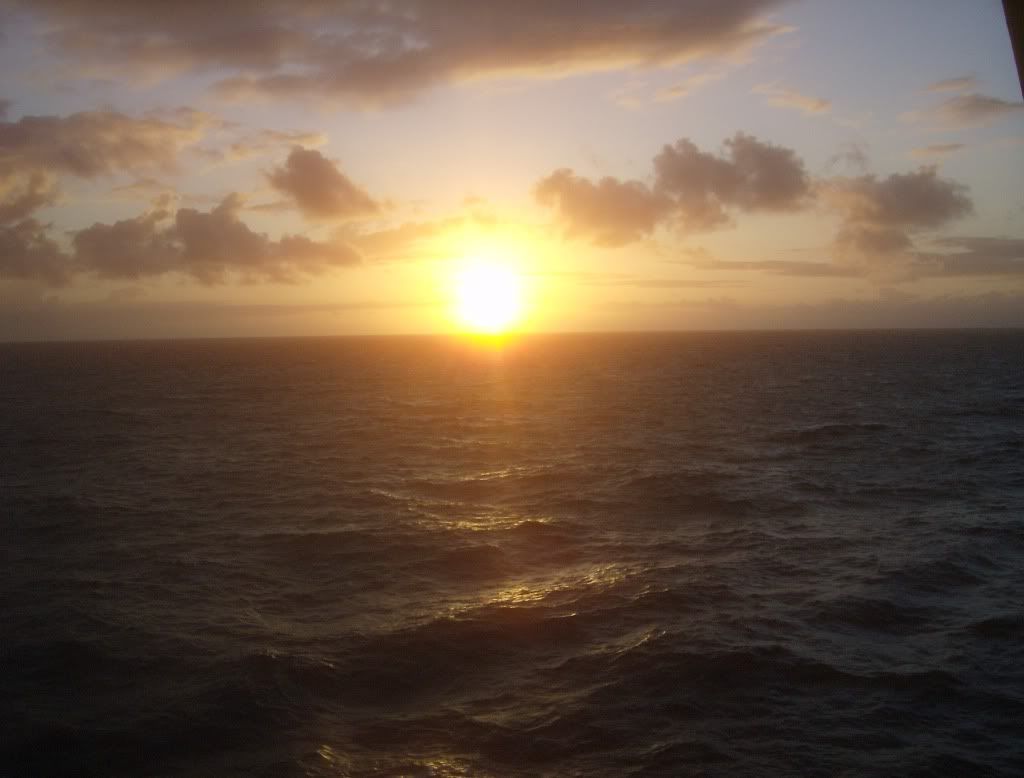 Sunrise in Kauai




We had a leisurely breakfast in the Aloha Cafe. I found a big pot of oatmeal, so I added that to my breakfast fare. I also had an omelet, made by Pam from Indianapolis. I told her that my girls went to school in Indiana, so we talked about Indiana winters. She couldn't believe that I thought Buffalo winters were worse in Buffalo.

We left the ship around 11:30 in the morning for our last shore excursion: Exploring Jungle Falls by Kayak. It was a very short ride in the excursion team's vans over to their harbor, but we saw lots of chickens. The driver explained that chickens have no natural predators on the island, so when some escaped from people's farms, they thrived in the wild. There were wild chickens everywhere! Another bit of wildlife trivia: Kauai has no snakes! That makes it a very popular location for film companies to film jungle scenes, since you don't have to worry about a boa constrictor putting the squeeze on an unsuspecting cameraman. I need to get out the movie "Raiders of the Lost Ark" and watch for the scene where Indiana Jones is running from natives and swings from a rope swing into the water where there is a plane waiting. We kayaked past that rope swing! They had to film the plane in another location... the river is way too narrow there for a plane!

Kayaking up the river to the jungle trail was quite a challenge, but fun. The only problem is that I got distracted while putting on my sunscreen. I was trying to listen to the talk on how to paddle and how to keep from tipping over and how to get into the kayak, and apparently I forgot to put sunscreen on my left leg. Well, my legs were stretched out in front of my on the kayak for the whole trip, so I have sunburn from my ankle up to my shorts line. I've been putting aloe on it, and hoping it doesn't blister and peel. When we go into town today, I'll have to wear long pants to make sure I don't get any more sun on it!


Just call me lobster leg!


So, we got to a jungle trail and walked along a trail for 10-15 minutes, hearing about some of the local plants, like the kukui nut. I found out that it has a few other names: the candle nut, the prank nut, and the 1-2-3 nut. The "Candle Nut" name is due to the fact that there is a high oil content in the nut, and if you smash it down and light it like a candle, it will give you light for a good while. The "Prank Nut" is because the nut in the center looks like a macadamia nut, but their composition is very different. The Kukui nut has such a high oil content that it has a laxative effect... so if you empty out a package of macadamia nuts and put in kukui nuts, you will quickly find out who it is who has been eating your snacks! The 1-2-3 Nut is along the same lines.. as the guide explained it: "One nut will help move things along. Two nuts will clean you out. Three nuts... Aloha!"

We had to hike down about half a mile of stairs to the jungle waterfalls. Again, we got some talks about the local plants. There were fruit bushes beside the trail: None fruit (looks ugly, tastes awful, but is good for you, like castor oil), strawberry guava, pineapple guava. At one point, we found a bush with some ripe strawberry guava. Ron and I shared one (it was about the size of a cherry), and it was pretty tasty. Lots of seeds, though! We didn't swim at the waterfalls like some people did... the water was freezing! We just waded in and took some pictures (on the waterproof cameras, so it will be a while before we get those back). Then we had to trek back up the hill for lunch! Now THAT was a rough hike! Half a mile uphill... oh, my aching legs! We had a quick lunch (deli sandwiches for everybody else, a salad for me) and headed back to the ship, where we had a little time to clean up and rest up before dinner.

We were lucky enough to get a seat in Staci's section again. She's our favorite waitress. She remembers details and makes sure I get my gluten-free bread and that the little box filled with varieties of tea is well-stocked before it gets to our table. All of the regular selections for dinner last night had gluten, so I had a steak and baked potato from the gluten-free menu. Ron had a chicken breast with mashed potatoes. He said that Bethany, our household connosiuer of mashed potatoes, would approve of their mashed potatoes. For dessert, Ron had a piece of lemon cream pie that he said was the best lemon cream pie he'd ever had, and I had a flourless molten chocolate cake. It was good, but I liked yesterday's Creme Brulee with semisweet chocolate layer better.

The original plan was to go to the magic show after dinner, but we were just too wiped out. We came back to the room and collapsed. I played games on the laptop, and Ron "rested his eyes".

Today we have a quiet day in Kauai (well, as quiet as you can with roosters crowing every five minutes). We'll try to find some free wi-fi, and be back to the ship to set sail at 2 PM. We will sail through the night and leave the ship around 8 am for our flight back to Buffalo... via San Francisco and Chicago. It's going to be a long trip!