It's 4 am and I'm out on the balcony again! I'm still not fully adjusted to Hawaiian time. I'm so wiped out by 9 PM local time, so I go to bed early, but then I'm fully awake at 4 am! Oh, well, I enjoy sitting out here with the ocean breeze and the sound of the waves.

We left Maui at 6 o'clock last night, and we are cruising to Hilo on the big island of Hawaii. Ron and I are going on a bike tour of Volcanoes National Park. I'll be sure to take plenty of pictures!
Yesterday was a quiet day in port for us -- no shore excursions. We had a leisurely breakfast in the main dining room, so things were a bit fancier than our quick breakfasts in the Aloha Cafe. Ron had Eggs Benedict with smoked salmon, and declared it the best breakfast he's ever eaten. I had a mushroom omelet and grilled ham, and when they brought me my gluten-free bread, I got apricot-mango jam. It was delicious! Of course, one of the first things that popped into my head was, "I wonder if I can find a recipe online to make this myself?"

We took a free shuttle into town, to the biggest mall on the island, and sat outside Starbucks sipping chai lattes, uploading pictures, and checking e-mail. I had about 300 e-mails to delete! Then we came back to the ship for lunch in the Aloha Cafe. They were serving up roast chicken at the carving station, so I made myself a nice salad and had chicken on top. I was chatting with the server at the station with hot dogs, hamburgers and pizza, and asked about gluten-free stuff. He said they have gluten-free pizza crusts, so when we go there for lunch on Wednesday, they're going to make me my own gluten-free pizza. Yeah, I can have Hawaiian Pizza in Hawaii!

After lunch, and my mandatory afternoon nap, I went to a class to make a kakua nut lei. Our Hawaii ambassadors, Kaleo and China, told a great bit about the history of the kakua nut.Then we used a wire needle to push ribbon through two dozen of the kakua nut beads, tieing knots between them, to make a necklace. I'll have to get Ron to get a picture of me wearing mine.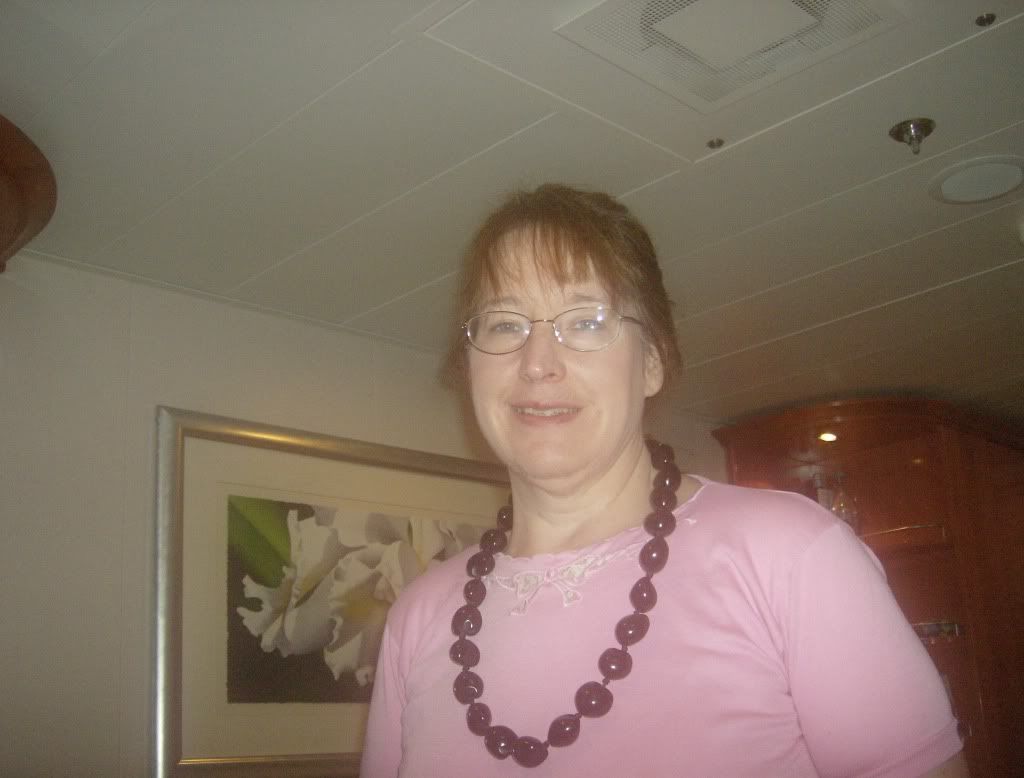 It was dress-up night for dinner, so we took a little extra time getting ready. We went later than usual, and the dining room was crowded, so we didn't get a table with our usual server, Stacey. We still had a delicious dinner - Ron had fish and I had steak. Ron had an apple bread pudding for dessert that he said was absolutely delicious. Too bad I couldn't try it... maybe someday I can work up a recipe for a gluten-free apple bread pudding!



We're getting closer to the big island. I can see lights in the distance. We dock around 8 am and leave for our biking adventure at 8:15! We have SPF 70 sunscreen!

Wednesday morning update:
Sorry I'm late… I actually slept until 5 am! I managed to stay up until 10 pm, watching the movie "The Blind Side" and reading the novel I downloaded from the library website.
So, yesterday we had breakfast in the Aloha Café, with their awesome breakfast buffet. We were supposed to meet up with the shore excursion staff for the bike tour at 8:15 am, so we wanted to have a hearty breakfast. It was raining as we ate, but the waiters were reassuring us that the rain would clear up and we would have a beautiful day in Hilo. It's always like that, they said.

We headed out and met with ten other bikers. There were two sets of newlyweds, another couple celebrating their 25th anniversary, a couple celebrating their 30th, and another couple who weren't celebrating an anniversary, just enjoying Hawaii. It was nearly an hour's drive to the park where we would be biking, and it rained all the way. The driver kept saying how it would clear up when we crossed the summit heading into the park. It didn't. Oops. When we got to the park and started walking around, it was still raining, so the tour staff handed out jackets. Half an hour later, we walked down to a lower parking lot to get our bikes and safety speech. It was still chilly and raining, so they also gave us gloves! We got sweet 21-speed high-tech bikes where you just flick one of four switches to go up or down. I spent most of my time cruising around gear 2-5, but I admit, on the "Challenge Hill", I got down to the "Granny Gear" of 1-2, and on a long straightaway, I was in 3-4 keeping up with the group. Eventually, the sun came out and we were able to peel off some of the layers of clothing. We hiked through a rainforest and through a lava tube and had our snack at a site where lava flow had destroyed a section of road. There were lava fields on both sides of the road (which was reconstructed once the lava cooled). I think that incident happened 14 years ago, but there were already plants taking root in the lava fields. We stopped at a big candy store on the way back to the ship. They had a big plate-glass window overlooking the work area, where ladies in hair nets and coverall aprons dipped chocolates. I had to get some pictures. It reminded me so much of the Lucy episode where Lucy and Ethel worked on the chocolate assembly line!