1986
For the last 30 years, I've been struggling with my weight. Frankly, in the battle of the bulge, the bulge was winning... big time!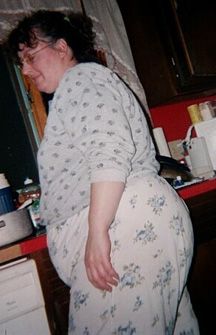 2003 - highest weight
When I got married in 1986, I was about twenty pounds overweight. After my first daughter was born in 1988, it was closer to fifty pounds. I went on a crash diet and lost 50 pounds, but then I got pregnant again, and by the time Connie was born in 1990, I was right back where I'd been before. Eight years later, when I got pregnant with Bethany, I was even heavier, about 75 pounds overweight. In 2003, after a family vacation to Lancaster, PA (home of all sorts of all-you-can-eat Amish buffet restaurants), I hit an all-time high,108 pounds over my goal weight.
I decided I really had to do something, so I started exercising. At first, I could only do 4 minutes on my exercise machine, but I worked my way up to 40 minutes, several times a week, and I lost 40 pounds. But then I hit a plateau, and got discouraged. I lost my fire and the weight came back.
Then in the fall of 2005, I caught a glimpse of a new (to me) TV show called "Biggest Loser." I went online the next day and signed up with the Biggest Loser Club online, and started following their meal plan and exercise system. I got into some online challenges and really started doing well. The weight came off, and I ended up taking off 60 pounds, but then I hit a plateau, and got discouraged. I lost my fire and the weight came back.
Sometime in 2007 or 2008 there was another big push with another diet that resulted in a weight loss of 60-something pounds, but--you guessed it---I hit a plateau, and got discouraged. I lost my fire and the weight came back.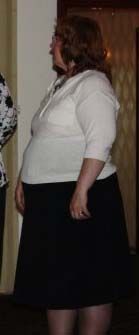 2009 - back up to my highest weight again
So, in November of 2009, I was watching the Biggest Loser "Where Are They Now" special, seeing how so many of the former contestants from the Biggest Loser have maintained their weight loss with healthy eating and active lives. And then they focused on Erik Chopin, who had gained back much of the weight he lost. So much of Erik's story sounded like a page from my own life. He committed to getting healthy again, and so did I. At that point, I was back to needing to lose at least 98 pounds.
I started on December 1st with diet and exercise, and the first ten or fifteen pounds came off fairly quickly, but then things slowed down. By March of 2010, I had lost 20 pounds, but the scale stopped moving. I didn't expect to hit the plateau that soon! That's when I was discouraged. Getting discouraged scared me. I didn't want to lose my fire and gain back those 20 pounds.
Well, on Facebook, I follow several of the former Biggest Loser contestants. One of my favorites is Shay Sorrells. She is so helpful in trying to answer questions for her Facebook fans. She is an incredibly busy woman: she works full-time, has a family, and works out like crazy to maintain her weight loss, and yet she takes the time to answer questions for people on Facebook. Shay put up a post about her trainer starting a 6-week challenge for overweight people across the country, offering free online workout videos and free nutritional counseling. The trouble was, there was an age range... and the upper limit was 45. I was 48 at the time. I filled out the form anyway, hoping the age might just slip by unnoticed. I went to the trainer's website and ordered her DVD, just so I wouldn't be completely unprepared for what lay ahead. I went shopping and got myself one of those kettlebell things... a weight shaped like a cowbell, with a big handle on the top. My husband told me I was going to ruin my back swinging it. I hoped he wasn't going to be right.

One of my first kettlebell workouts
So, apparently my age wasn't a problem, because a little bit later, I got an introductory e-mail, then a phone call from the trainer herself, Alysia Gadson, giving me an idea of what was coming. I got an e-mail with the nutrition plan (lots of veggies and lean meats, some fruits, some grains, and lots of water... lots and lots of water!), I anxiously waited for the first video to be uploaded to the website, and on April 19, 2010, I officially started with LiveFit Revolution.
I didn't really expect much the first week. After all, I'd been dieting for about five months, and I was stuck on a plateau. I figured if I could lose two pounds the first week, I'd be moving in the first direction. The kettlebell workouts were brutal! I would be wiped out by the end of the workout. That first week, I was so sore, it hurt to stand up and sit down. It was worth it, though. I lost eight pounds the first week. I was shocked. I was delighted. I was on fire! The weight loss continued week after week, sometimes only a pound, sometimes two or three pounds. Within a few months, I was approaching "The Wall" --a weight I had approached several times in the past, but not broken through. I was so sure it was going to be like before... "I hit a plateau, I got discouraged, I lost my fire."
It wasn't. I kept on going. My steady weight loss turned into a bit of a roller coaster ride... up a pound, down two pounds, up two, down three. I had discouraging weeks, but I got back on track.
The picture my daughter made for me when I broke through "The Wall"
In November of 2010, I got to meet Alysia Gadson and Jason Lily, the founders of LiveFit Revolution, in person at a LiveFit Roadtrip in Philadelphia, PA. It was a great weekend, getting to meet about eight other LiveFit members from around the country. We did a kettlebell workout in the hotel conference room that gave Alysia a chance to correct our form, and we had a crazy cardio challenge on the Rocky Stairs of the Philly Art Museum. I learned that weekend that I'm capable of more than I tend to think I am.
I also developed some deeper friendships that weekend, not only with Alysia and Jason, but with Michelle, Vicky, Brenda, Meg, Trish, Michael, Karen, and Cindy (oh, and Koda too). Mary had to cancel due to a family emergency, but I hope to meet her in person some day. After all, we both live in New York... we can't be that far apart, right? LOL, I can probably drive to Indiana faster than I could drive to Mary's house!
Anyway, lately, when I start to get discouraged, I know that I can reach out to my LiveFit friends for encouragement and support. Jason sends e-mails with his special "Jedi mind tricks", Alysia always has words of encouragement, and I have so many friends who have been going through the same struggles, who know just what I'm going through, and they're all cheering me on.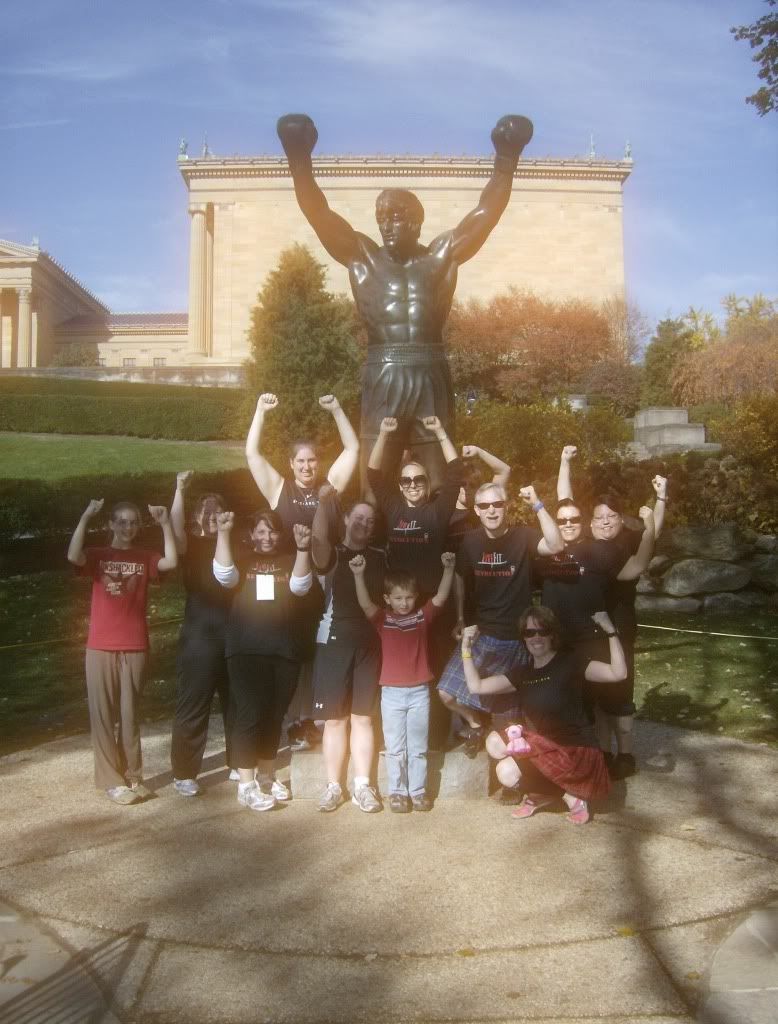 After the Rocky Stairs Challenge
Alysia and Jason have built a wonderful program to help people change their lives. I'm fifty pounds lighter than I was last spring, and I have the confidence that I can finish my journey by losing the last thirty pounds. Why? Because I've learned that the formula isn't "Perfection = Results", it's "Commitment = Results". I've learned to eat healthier, I've learned new ways of exercising. I've learned to push myself harder than ever before. I've discovered kale and roast cauliflower and strawberry smoothies with just strawberries and Stevia. I'm learning how to say "I can" instead of "I can't" and how to forgive myself and move ahead when I fall.
So, here's to a great first year with LiveFit, and I can't wait to see what the next year holds in store.
Doing a 3-mile walk/jog is a piece of cake now!