Ah, what a life. It's 4 am (10 am Buffalo time)

and I'm sitting on the balcony in my PJs with my feet up on the railing, enjoying a cool breeze and looking over the lights of Maui. LOL, probably the only thing that could make it better would be if I could check my e-mail and Facebook, but I'm too cheap to pay 50 cents a minute to get on the internet. Later today, Ron and I have a free day, so we're taking the free shuttle into town. We'll go to McDonalds or Starbucks, get a hot cocoa, and use their free wi-fi to check in.
So, I guess I'll back up to Friday. We had an alarm set to get up at 4:30, but I was up way before the alarm went off. Everything was packed and ready to go, so we just had breakfast and headed out the door to the airport. When we scanned out passports at the check-in kiosk, I got a message that I needed to pick up the help phone... our plane from Buffalo to Chicago had a 30-minute delay, so we would miss our connecting flight. The staticky voice on the other end of the line said that we would arrive in Hawaii at 7:30 pm instead of 3:30. When she put me on hold, I said to Ron, "Now we're getting there 4 hours later. Good thing we booked the night before... we would have missed the boat!" The reservations agent said, "I can help you. Tell them you're working with me." He searched and clicked and shook his head and searched and clicked some more and finally told us that we were on a direct flight from Chicago to Honolulu and we would get there at 1:53 PM Hawaiian time, nearly two hours earlier than our original flight.
The flight was long, and frustrating (United Airlines, when you have somebody on your planes for 8 hours, you could at least give them a pack of complimentary peanuts or pretzels). They were all out of the best option for a gluten-free lunch (a spinach-chicken salad), so I had to shell out nine bucks for a "turkey wrap" that had about two tablespoons of turkey and two tablespoons of shredded lettuce and carrots (the only parts I could eat) in a big tortilla. Oh, well, live and learn. We'll grab something in the airport for the flight back.
Our hotel, the Marriott Waikiki, was beautiful. We had a balcony room on the 11th floor, so we had quite the view of the surrounding area, including the beach. Norwegian Cruise Lines had an office where we were able to sign in and get a priority boarding pass. They also gave us beautiful leis made with real flowers.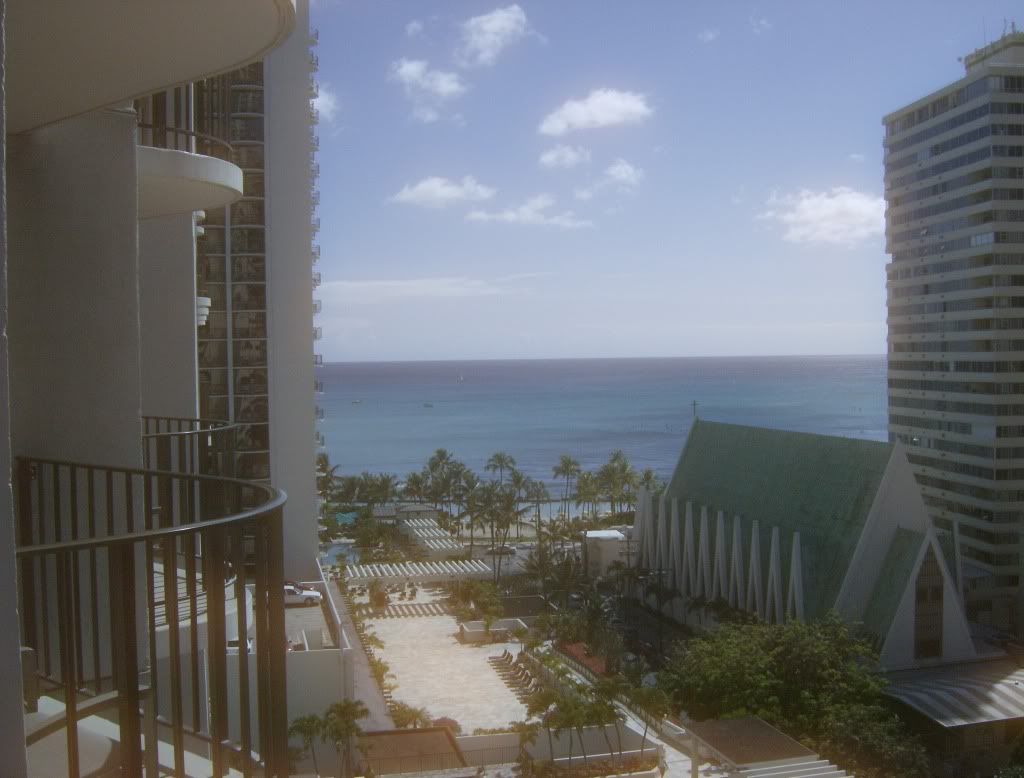 View from our balcony.
We made reservations for a Pearl Harbor tour (leaving at 6:45 am, yikes) and strolled down to the beach for a quick dip. (Sorry, pictures of that are on the waterproof camera that won't be developed until we get back.) Brrr, the water was cold! I only waded in. The sun was intensely hot, and I was afraid we would get sunburns, even with our sunscreen, so we didn't stay out very long. We walked around a bit, checked out the Hawaiian ABC stores (there were two in the hotel and two more within the block or so where we walked around), and picked up some stuff for breakfast (the hotel doesn't give a complimentary breakfast, and we had to be out so early that we wouldn't really have time to go to a restaurant, so we got cereal, yogurt, a little carton of milk, a hard-boiled egg, some fresh fruit and a granola bar at the ABC store. The stores are little, but they have a little bit of everything!
The sun was still shining brightly, but my body was telling me that it was midnight in Buffalo, and it wanted to sleep! We managed to stay up until 8 PM, then collapsed into bed. I think we slept until about 4:30 am. Around 5 am, I gave up on trying to sleep any more and got up to work on the puzzle-proofing assignment I brought along.
Pearl Harbor was a very sobering tour. The grounds were beautiful, the museums and exhibits were very informative, but it was all so sad. At the USS Arizona memorial, there was a Pearl Harbor survivor named Sunny handing out little flowers to toss into the water as a memorial. I was in tears as I dropped my flower into the water, thinking of all the families who lost loved ones when the Arizona went down.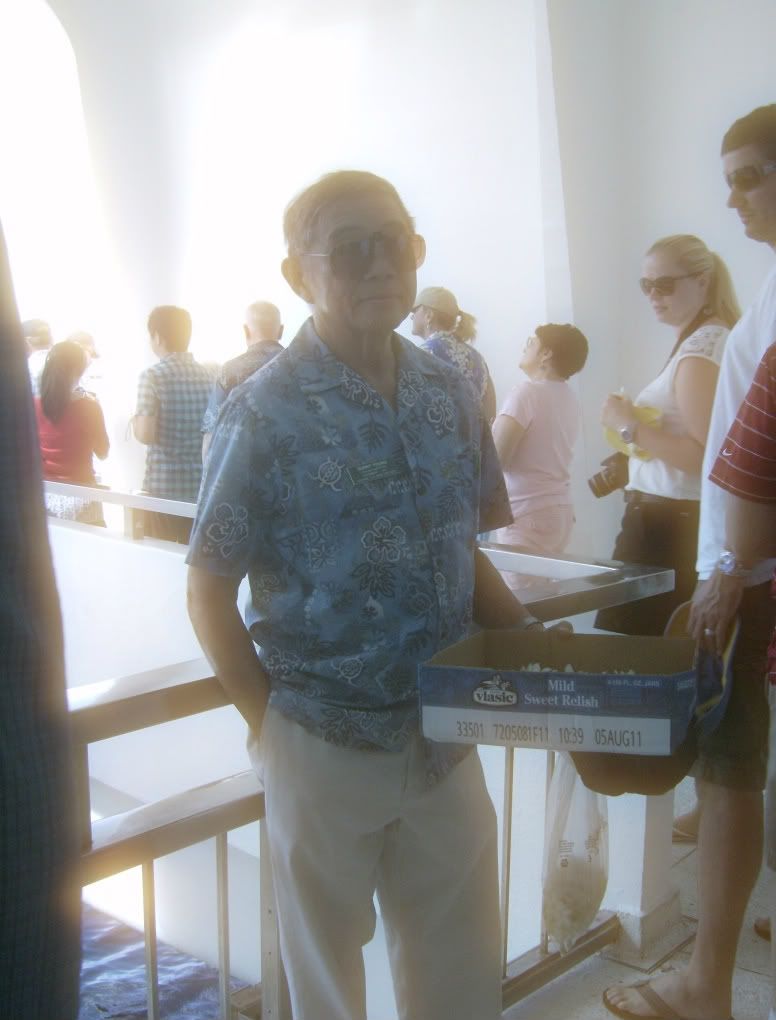 As we drove around in the tour bus, I was amazed at the beauty of Hawaii: the moutains cloaked in clouds, the flowers everywhere, the birds, the waterfalls, the trees. We've only been here for two full days, and already I have about a hundred pictures. It's going to take me a while to get them all uploaded to Facebook and captioned next week!
The tour bus dropped us off at the pier. We could see a long, long line of people waiting to get in for the cruise. I didn't look forward to waiting in line... but then I discovered the joy of "Priority Check-in" from having a pre-cruise hotel stay... they opened up a door and ushered us directly into the building, where we went through security without a line. We were on the ship in about fifteen minutes. We got our picture taken with two cast members of the Polynesian show...LOL, it turned out really well, considering we had been travelling for more than 12 hours, but the picture is $19.95, and I'm too cheap to buy it! The rooms weren't ready yet, so we made our way to the Aloha Cafe and had some lunch. There were buffet stations all over the room, with a fruit bar, salad bar, hot entrees, pizza, tacos, soup, and dessert. I was able to find plenty of gluten-free options and had a nice salad with some chicken and fruit... topped off with a piece of apple pie with ice cream on the side. (I nibbed the apple pie filling out from between the crusts). By the time were were finished, our room was ready. I love having the balcony. We can have fresh air in the room instead of air conditioning. I went to sleep last night to the sound of the water lapping against the boat.
Sunday morning, we woke up around 5 am (still a bit on Buffalo time) and got ready to leave for our Snorkeling adventure. We took a bus to harbor and took a 9-mile (45-minute) boat ride out to a coral reef inside an underwater volcano crater. There were three ways to get off the boat: you could ease off into the water from the dive platform, you could jump off the side of the boat into the water (I think that was a 6-foot drop), or you could go down a slide into the water. We did the slide. It was FUN! The water was cold, and the waves were rougher than any snorkeling we'd done before, but the water was crystal clear. We snorkeled for about 45 minutes before I got seasick and needed to head back to the ship. Ron snorkeled at the second site (Turtle Town) by himself as I stayed on the boat with my head back and my eyes closed. I'm sorry I had to miss the turtles. Ron took plenty of pictures... I just have to wait until the underwater camera gets developed! There was a mix-up, and the gluten-free lunch that was supposed to be provided wasn't, so I skipped lunch (even with the dramamine a fellow traveler gave me, I still didn't feel much like eating), but by the time we got back to shore, I was feeling better.
We got back to our room to find a towel puppy waiting for us (photo 90), got cleaned up and got ready for dinner in the Liberty dining room. As we were getting ready, Ron said, "I could really go for a nice turkey dinner." Sure enough, when we got down to the dining room, turkey was on the menu! Even better, scallops were a choice for appetizer! The kitchen staff were accomodating enough to give me rice instead of stuffing to make my dinner gluten-free, so we both had a delicious meal! I even had a piece of flour-less chocolate cake with raspberry sauce.
So now I sit here on the balcon as the sun rises over Maui, looking forward to a quiet day of exploring and relaxing. Tomorrow we do a bike tour of a volcano park, so we're resting up today. After all, this is vacation!