No, this blog isn't about me taking a trip to Las Vegas… it's still about my New Year's resolutions and how I plan to keep them. Resolving to lose the last 30 pounds and get to my goal weight, and finish a sprint triathlon this summer are lofty goals, and I really need to keep focused in order to attain them.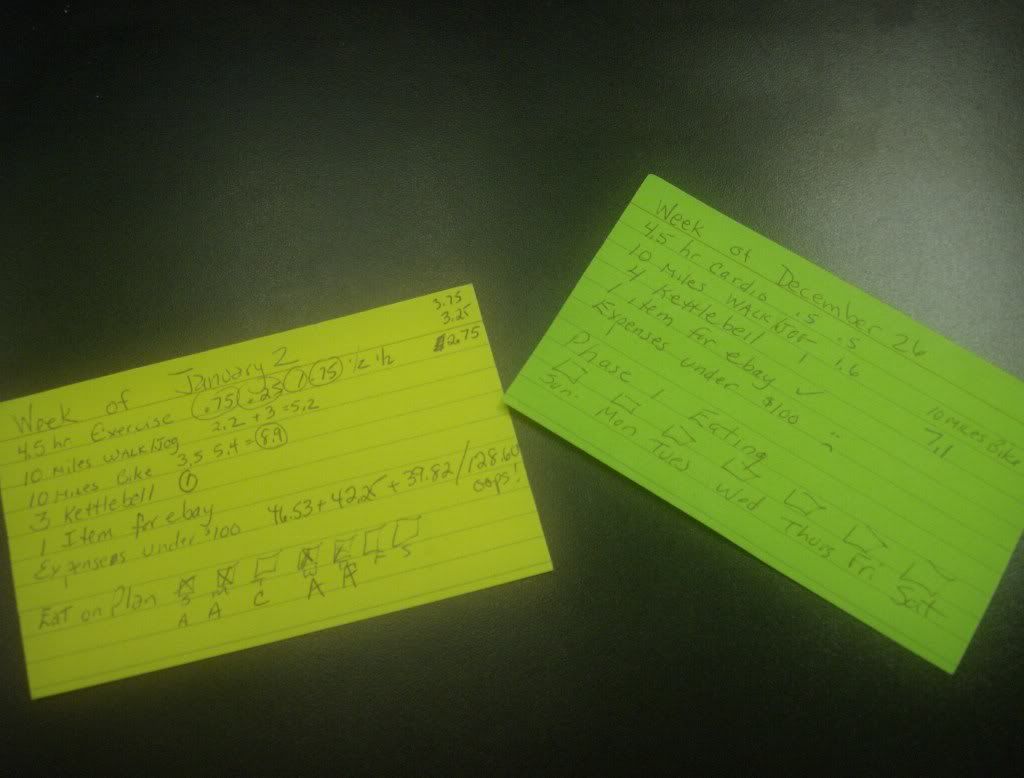 I sat down after Christmas and tried to think of what I needed to do each week to stay on track physically and financially. I came up with the following goals and wrote them out on an index card.
4.5 hours cardio
10 miles walk/jog
10 mile bike
3 kettlebell workouts
Knit/crochet one item for sale on e-bay
Keep expenses on the charge card under $100
Stick to my diet plan 6 days a week, with one day off-plan (but still within reason)
The first week I used the cards, I didn't do very well. I forgot to keep reviewing my goals. I spent too much, I exercised too little, I didn't stick to my eating plan.
This week, I have been taking the time to review my goals each morning, and I'm doing much better. I try to figure out when I can sneak in some exercise. I planned meals that would use foods in the freezer and pantry so I could keep my shopping expenses down.
I dusted off my kettlebells, which have been suffering from neglect in recent weeks. Having that card in my hand each morning helps me to remember what I'm shooting for.
On Wednesday, my resolutions had a bit of a test. I had a rough day at work, and thoughts of comfort food were bouncing around in my head. Instead of walking down to the store at the corner and buying a pint of ice cream, I donned my running shoes and did 50 laps around the gym. That's 3 miles. I jogged the entire distance. It took me 45 minutes. Tomorrow I plan on going over again and jogging for an hour straight, just to see if I can do it, and to see how far I can go.
Finished a 3-mile jog!
Having a definite plan and reviewing it often can really help!