I was looking over my goals for the week, trying to decide what to do for exercise today (Saturday).
I still needed 3.3 miles to make my 10-mile quota this week, so I decided on going to the church gym and running laps for an hour. Almost as soon as I made my decision, I started doubting my ability to carry through. The longest I've ever jogged continuously is 45 minutes. I doubted that I could do it for an hour. You know those cartoons where somebody has an angel sitting on one shoulder, encouraging the person to do right, and a little devil is sitting on the other shoulder, pushing for the person to make bad choices? That's the way my thoughts were going: "You can't jog for an hour. You're still overweight and out of shape!" "It's only fifteen minutes more. You can do it." "Just do the 3.3 miles and stop. Don't push yourself too hard." "You did an hour of intense cardio in Philly, you can do it here!"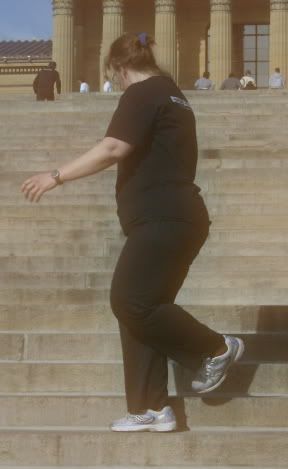 Grapevines on the Rocky Stairs
The Rocky Stairs Challenge was tough. We ran up and down the stairs, took them 2 or 3 at a time, did grapevines up the stairs, ran laps around the upper courtyard, and did more stairs. Toward the end of the challenge, Alysia called out, "One more lap, then come in for instructions. You can keep on jogging, or walk for a cool-down lap." Alysia gave me permission to walk, so I was going to walk. But then Jason set up his camera tripod on the other side of the courtyard and yelled, "Run for the camera!" I didn't think I could. I thought I was worn out. I thought I didn't have anything left. I wanted to tell Jason, "I can't." Trouble is, you can't say that to Jason. It doesn't work. I've tried. So I ran. After nearly an hour of stairs, I sprinted halfway around the courtyard. That footage made it into the video of the challenge on the LiveFit website.
Rocky Stairs Challenge Video
Thinking back to that day strengthened my resolve to push myself today. To encourage myself in my endeavor, I put on the same LiveFit t-shirt I wore for the Rocky Stairs Challenge in Philly, and headed off to the gym. I powered up my MP3 player and started jogging: a slow lap, then a faster lap. I had a little click-counter in my hand and kept pressing the button each time I finished a lap. I kept going with the pattern of slow jog / faster jog, although there were times when it was two laps of slow jog before I did my faster lap.
When it was all done, I jogged 4 miles in 59:18. That's the farthest I've ever jogged without stopping or taking a break by walking, and I ended up with a pace a little under 15 minutes per mile. I'm glad I tried to push myself. You know, we're capable of so much more than we think we are!