A few years ago, I tried a "No Spend Month". I know it was in February, not sure what year. LOL, if I was going to pick a month to keep my spending to bare bones, I was going to pick the shortest month of the year! I think it was right after helping both girls with college tuition. Money was tight, and I wanted to see if I could go one month with no unnecessary spending... now I think it's time to do it again.
Back in my first no-spend month, I made a goal to keep my grocery spending to under $200 for the whole month. That way, I could get the basics, like milk, eggs, fresh fruit and vegetables each week, but live off the stockpiles in the house for canned goods, cereal, snacks and meat. I made a rule that we could only eat out if I had a gift card to cover it. Bills like utilities and gas for the car weren't included in the $200 spending limit. Good thing - with today's gasoline prices, that can add up to $200 a month all by itself!
So, here we go again. I am going to work on keeping my grocery spending during September under $200. I'm starting to plan and set some ground rules for myself:
I need to look into what I have on hand, and make plans on how to use it. So often, I'll buy meat with the "use today or freeze" sticker, and toss it in the freezer. I lose track of what's in there. I need to make up a list of what meats I have available, and plan meals to use up what I have on hand. I have several packages of sirloin strips. I can make beef and broccoli, or marinate the meat to make spiedies. I could sauté some peppers and onions and make fajitas. There's a package of Italian Sausage - I could make pizza, Italian Sausage subs, or lasagna. Before the end of August, I'll make a list of all the packages of meat in the freezer, and make up a list of possible meals. It will take a while, but it will make meal-planning much easier for the month.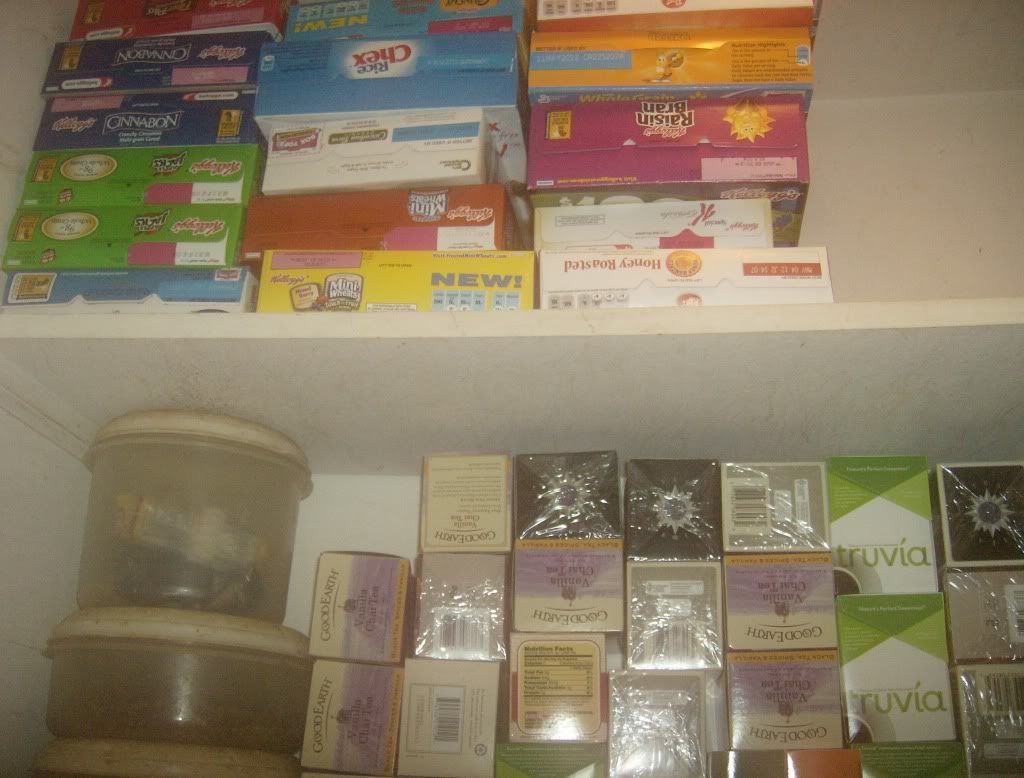 The cereal / tea section of the pantry
I think we have enough cereal to make it through a month... about 15 boxes. And my auto-ship orders of tea from Amazon have just arrived, so we're all stocked up on our favorite flavors of tea. Ron's favorite is pumpkin spice:
I actually have three favorites: Decaf chocolate hazelnut, cocoa chai and vanilla chai:
I get 6 boxes of each variety every six months from Amazon via an auto-ship order. It works out perfectly for the amount of tea we go through, and if I'm running low, I can speed up the shipping date. If you click on any of the tea boxes, it will take you to the Amazon website, where you can get any of these delicious teas for a great price!
I need to make a distinction between "necessity" and "extra." I need to be out of an item, with no substitutes, for it to be a necessity. The last time we did a no-spend month, we ran out of ice cream. We had a substitute--making it ourselves--so that wasn't a necessity. Bethany and I had a great time making homemade ice cream. This time, I might try making my own yogurt, too. I have a dehydrator with an adjustable temperature setting, so I've always wanted to try that. I'm sure I can find instructions online. There are items where it's hard to decide where it's a necessity... every weekday, Ron takes a Nature Valley Almond Crunch granola bar to work. If we ran out of those bars (a bit unlikely, since there are at least 6 boxes with 6 bars each in the pantry), I suppose he could have some other granola bar in his lunch... By the end of the month, there probably won't be much of a selection of cereal left. The temptation will be to say that it's "necessary" to buy a box of Raisin Bran so Ron isn't stuck eating Apple Jacks. I suppose I have the option of making some homemade granola... if I'm not out of oatmeal!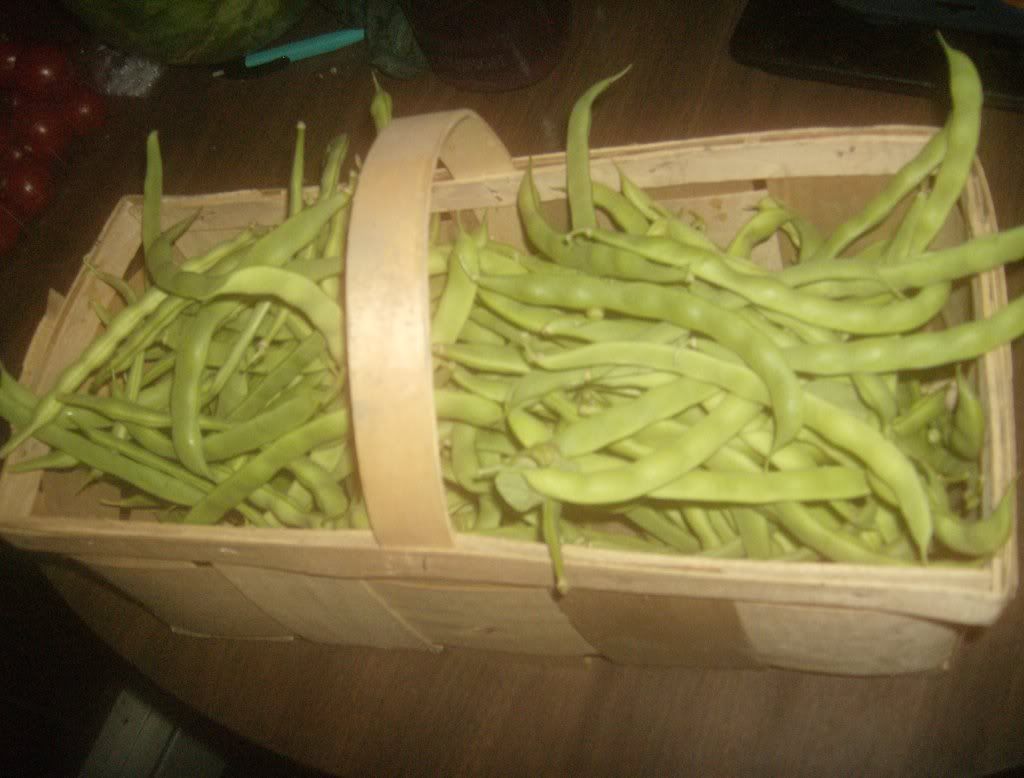 We can fill up a basket like this once a week or so.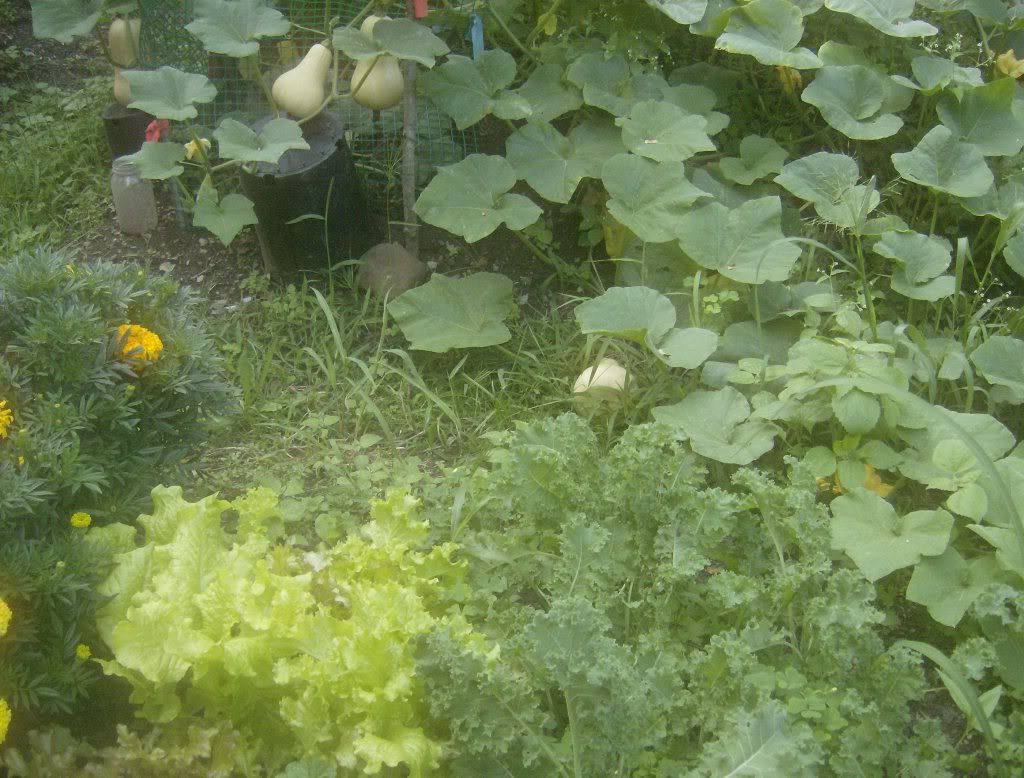 Butternut squash, lettuce & kale
One good thing is that the garden is in full swing right now. We're getting plenty of green beans, lettuce and kale. Soon, the butternut squash will be ready to pick. The freezer is well stocked, and my years of canning have us well stocked with canned fruits and vegetables, soup ingredients, jams and syrups.
Ron getting beans for dinner


Another item on my to-do list in preparing for the no­­-spend month was to check out "hidden assets". I went through my online programs like mypoints, ncponline, and bing to see if I could come up with some gift cards to give us a chance to eat out during the no-spend month. I ended up getting a nice surprise: I had enough points at mypoints to get a $50 walmart gift card. I had enough of a bonus saved up at discover card to get a restaurant gift card, and pay my next statement. I found a new site for racking up some points for rewards: www.dailyfeats.com. Every day,I check in to say that I have completed tasks like flossing my teeth, going for a walk, hugging somebody, reading a book, eating leafy greens or taking a nap! It takes a few minutes a day, and I figure every couple of months, I'll have enough points for a $10 gift card. Maybe more once I get past canning season and have more time for healthy habits like exercising consistently again.
I think that focusing on a no-spend month will be good for me. I've been struggling with self-discipline lately. I have gained back some of the weight that I lost last year, and my choice of clothes that fit is very limited. I have two options: get back to healthy eating and exercise, so that I lose some weight and fit back into my wardrobe again, or waste a lot of time and money getting a new, larger wardrobe. The former option is the only one that fits into the no-spend month philosophy, and I think with less junk food coming into the house, it will be easier to stay on track. I think that having a successful month of sticking to my no-spend goals will also help me to feel better about my self-discipline, and keep me moving in the right direction even when the no-spend month is over.