I did some more experimenting with gluten-free baking over the weekend. I had a recipe that only called for one type of flour (brown rice flour) With my experience with gluten-free baking so far, I think that putting too much brown rice flour into a recipe makes for a finished product with a gritty texture. So, I pulled out all my gluten-free flours from my "stash" and scribbled down quantities as I put the recipe together.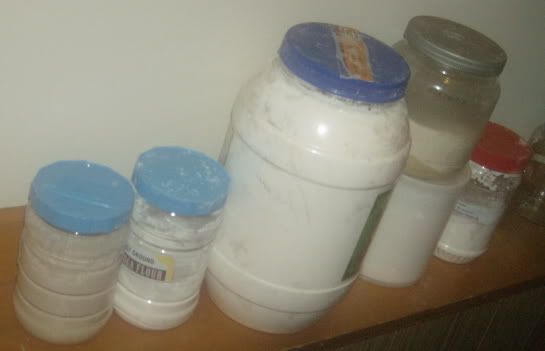 Gluten-Free Bread
½ c brown rice flour
½ c white rice flour
½ c sorghum flour
1 c tapioca flour
2/3 c cornstarch
2/3 c dry milk powder
1 Tbsp xanthan gum
1 tsp salt
1 pkg yeast (2 ¼ tsp)
2 Tbsp oil
2 eggs
1 ¾ c warm water
Mix all dry ingredients (flours, cornstarch, dry milk, xanthan gum, salt, yeast) and mix until well blended. Add oil, eggs, and water, and mix on medium speed for 5 minutes. Spread in large loaf pan, smoothing top as much as possible (dipping your spatula into water helps to keep it from sticking as you smooth the dough). Let rise in a warm place for 50-60 minutes. Bake at 350 degrees for 55 minutes. For cinnamon-raisin bread, add 1 Tbsp cinnamon and a handful or two of raisins to the recipe, cinnamon with the dry ingredients, and the raisins mid-way through the 5-minutes of mixing.
The original recipe called for a 9x5 loaf pan. The first time I made this, I divided the dough in half, making two small loaves in my 8x4 loaf pans (one plain, one cinnamon-raisin). The next time, I think I'll make it in my long, narrow loaf pan (12 x 4). If in doubt about cooking time for different pan sizes, you can always use a thermometer to check the temperature of the loaf. If the temperature in the center of the loaf is 190 degrees, it's done.
I think it turned out to be the best gluten-free bread I've made so far. I'm thinking of trying it again later this week in my sub-roll pan... to make a long, thin loaf with an extra-crispy crust!