Once in a while, when I'm planning meals for the week, I ask my family for suggestions. The last time I did, somebody mentioned Reubens. Reubens sound great... but the trouble is that I can't have rye bread on my gluten-free diet. I decided to take a tried and true gluten-free bread recipe and tweak it a little bit to see if I could make a loaf of bread that tasted enough like rye bread to make myself a reuben.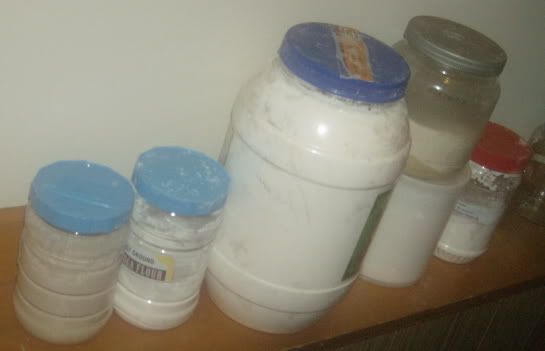 My collection of gluten-free flours
I think it turned out pretty well... here's the recipe:
Gluten-Free "Rye" Bread
1 c tapioca flour
1 c garbanzo flour
1/2 c cornstarch
1/2 c brown rice flour
2/3 c sorghum flour
2 tsp xanthan gum
1 tsp salt
1 Tbsp sugar
1 Tbsp minced dried onion
1 Tbsp yeast
1 tsp caraway seed
1 egg
1 c milk
1/4 c oil
1 Tbsp pickle juice ( I drained extra juice out of a jar of dill relish)
1/2 - 1 c water
Combine all dry ingredients and mix together until well blended. Beat egg, milk, oil and pickle juice together. Add to dry ingredients and mix 1 minute on low, then three minutes on high speed, adding enough water to make a soft, slightly sticky dough. Place in loaf pan(s) which have been sprayed with non-stick cooking spray. (I have a long loaf pan -- 4-1/2" x 13" -- that I used for this recipe, but you could also divide the dough into two regular size loaves.) Smooth the top of the loaf with a spoon, spatula, or your fingers. Dipping the spoon/spatula/fingers into water helps to keep the dough from sticking.
Let the loaves rise for 80-90 minutes, then bake at 350 for 25-30 minutes.
It also tasted very good with eggs & turkey sausage for breakfast the next day!