It has been on my to-do list for months to make this bread:
Gluten-Free Outback Steakhouse Bread
Well, today was the day! I planned on making Jennie-O Turkey Italian Sausage with onions and sweet peppers for lunch, and decided that I wanted to have some gluten-free bread with it. I searched through my piles of recipes printed out from the internet and found the first page of the recipe... then had to go online to find page two. Such is life... it's always something!
Of course, I can never follow a recipe exactly. Instead of melted butter, I used vegetable oil. I didn't have instant coffee to put in, so I was going to use some powdered caramel coloring I keep on hand. Well, that didn't work out. The last time I used it, the powder had turned into a rock-hard chunk, so I chipped out what I needed, put it into a plastic bag and bashed it with a mallet until it was a powder again. This time, the powder had formed a hard, sticky solid that would not budge from the bottom of the jar no matter how hard I tried, so I poured the warm milk into the jar and sloshed it around a few times to get some of the caramel coloring.
One thing about making gluten-free bread: if you're used to making regular yeast breads, it's a whole new ball game. The consistency is totally different for a gluten-free bread dough. It's more like a thick cake batter: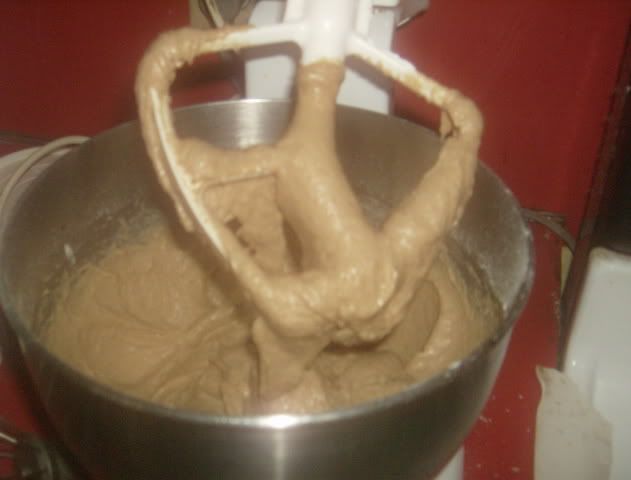 I pulled out my English Muffin rings so I could make rolls rather than small loaves of bread. I didn't want them to stick to the bottom of the pan, so I used parchment paper and a good dose of cooking spray (Watkins, of course)!
I smoothed down the tops with my fingers (wet fingers work best, so I kept a bowl of water on hand and dipped my fingers after smoothing down each roll), and let them rise for a little less than the prescribed 90 minutes. (What can I say? I was getting very hungry!)
They turned out great! I think this was the best gluten-free bread I've ever had, and I will definitely make it again and again!