Last week, I got an invite to "Bread of the Month" at the Artisan Bread Bakers group on Facebook. The bread this month? Nutella Bread. As soon as I saw the title, I knew I had to try to make a gluten-free version. I looked up the
original recipe
and found out that the measurements were all metric. I racked up a few Bing points doing searches like "500g flour = how many cups?" and got an approximation of all the ingredients. I bought a jar of Nutella. I misplaced the recipe and ended up searching for half an hour before I found it in my piles of paper. Then, today, when Bethany decided to make a Key Lime Cake for dessert, I decided to give the Nutella bread a try.
Gluten-Free Nutella Bread
3/4 c Tapioca flour
1/2 c cornstarch
1/2 c white rice flour
1/4 c brown rice flour
1 tsp Xanthan gum
2 tsp salt
2 tsp yeast
1/2 cup Nutella
1 large egg
3/4 c warm water
2-3 Tbsp Nutella for filling
Combine flours and xanthan gum in a small bowl (not your mixer bowl). In mixer bowl, beat egg and Nutella until well-blended. Slowly add water while mixer is running. Add flour mixture a little at a time, scraping the sides of the bowl often. Dough should resemble a thick cookie dough in consistency. Way too sticky for the usual "roll out the dough on a floured surface" routine...
Put about 18" of Saran Wrap down on your work surface and spray it with non-stick cooking spray. Put your dough down in the middle, using the spatula to shape it into a rectangle. Spray another piece of Saran Wrap and put that on top of the dough, then roll it out into a long rectangle, about 8" wide and 18" long.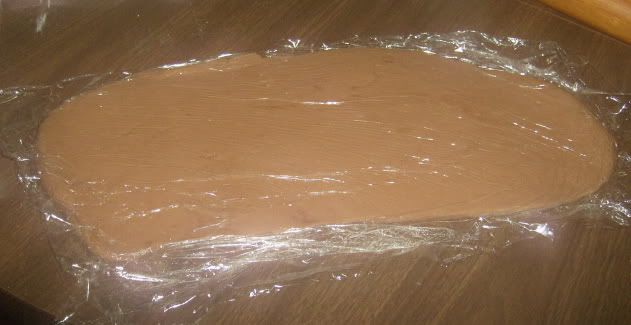 If the dough starts to get too wide in a section, you can lift the top Saran Wrap, fold the extra width in toward the middle, replace the Saran Wrap, and keep on rollin'.
Take off the top Saran Wrap. Put your Nutella for the filling into a Ziploc bag, make sure it is zipped... completely zipped, and use it to make stripes on the dough about an inch apart, but don't go all the way to the edges... leave about 1/2" of blank dough at the ends of the stripes.
If you don't make sure your bag is completely zipped, you get rather messy... here's photographic evidence:
Carefully lift one end of the dough off the bottom Saran Wrap and start rolling it up tightly. Place it in a greased loaf pan, smoothing down any rough edges. Let rise in a warm spot for 60-90 minutes, then bake at 350 for 40 minutes.
The finished product:
It's good, but I think it needs a little something. I think I'll try again, adding about 1/4 cup of sugar to the flour mixture, to make the dough a little sweeter, and hopefully help it to rise more. I think I should do a few less stripes, too, to make the bread toastable. It has so much Nutella in it, I think it would run out in the toaster. All in all, I think it turned out well for the first try.